The Ed Butler quote board
Heard a great quote? Send it to editor@theda.co.uk and we'll put it on the wall.

"I would go back to Leeds at any time, of course not right now"
Gus Poyet clears thing up…kind of

"He's made a homophobic comment, that doesn't necessarily mean he's homophobic."
The Oxford City Manager who may not necessarily be the Oxford City manager…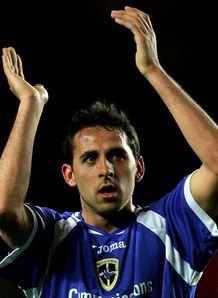 "They've backed me and I want to pay them back."
Unfortunate choice of words from gambling addict Michael Chopra on his club's faith in him…

"I didn't realise the Ukraine is in Europe. Is the Ukraine in Europe?"
Probably Tony Pulis, seing as you're there to play a Europa League game…

"A World Cup winner with Brazil in 1994, Romario officially scored nearly 1,000 goals in his professional career."
Record books sounding a little bit lazy there

"We were interested in Sergio Agüero but he wanted £250,000 a week in wages. We were only £220,000 short."
Harry Redknapp explains how business can be a real close run thing.

"I don't think Arsenal have made any changes"
During a recent pre-season friendly a hapless commentator fails to spot the 7 previous substitutions by Arsenal.

"We will get the balls out on day one"
Gary Waddock has his first day of pre-season all sorted. And it's airy…Hehe balls

"In 10 years at Milan I made 400 appearances, averaging 50 a year"
A Pirlo of wisdom…

"Wanderers tie up youngsters"
Another headline which maybe needs a little more thought

"I don't think Real Madrid are in the same league as Barcelona"
Jamie Redknapp is obviously not a keen follower of La Liga

"He's missed a stone banker handball today"
Tony Pulis must be unhappy with his customer experience if he's being served by stone bankers in branch.

"Harry looking to keep Woody."
Sky Sports' website like's a little innuendo in their Monday morning headlines. Probably written by a right stiff.

"It's a freekick 100 times out of 100. Although some referees might've let it go."
Maybe the 101st referee Alex McLeish?

"I look at guys like Phil Bardsley, who has changed his nationality to play for Scotland"
Urm…is that legal Craig Levein?

"I don't even think this is about money. It's because Charlie took them to a tribunal over the bonus they owed him."
I'm fairly sure that is infact money related Mr Adam senior…

"And a bit of history there; Stoke's first goal since 1980."
I think the commentator may have wanted to add 'at Old Trafford' somewhere in that sentence. Unless it's been a bad few decades for Stoke fans.

"We were just too offensive tonight."
Brutally honest assessment there Roy

"South Korea have a long history with Japan. When we have a match against them the fans tell us that if we lose they are going to throw the players into the sea"
And Wayne Rooney was complaining about a bit of booing…

"Arsenal smash these teams at home then lose away. What are they homers?"
Paul Merson uses language in the most magical way

"Rafa just loves a team who comes onto him"
You flirt Mr Benitez

"We can't dwell on this formation, we've got to change things. It hasn't worked for over 60 seconds now."
Alright Stan, maybe give it a bit longer…Nothing like a bit of patience.

"The Welsh, who have suffered back-to-back defeats to Montenegro and Bulgaria now travel to Switzerland, who are also pointless after two Group G matches."
That's a tad harsh from the BBC isn't it?

"Nigel should not change his game, but maybe he should occasionally go into a tackle slightly differently."
So, change his game then Mark Van Bommel?

"It's all very well saying let's have a winter break but whereabouts in the calendar would it come?"
How about winter Richard Scudamore?

"It (Fabregas) looks a 50-50 but a 50-50 balancing on the negative side."
Never go on a seesaw with Arsene Wenger

"Coming up after the football a film called the Condemned which sees Steve Austin and Vinnie Jones sent to a remote island to fight to the death against convicts on death row. A bit like a Wimbledon pre-season then."
Except not in the slightest Dave Woods

"I tend to measure the pace of a game using the pace of the ball"
That's Mr Graham Taylor (again), who also smartly measures time using time

"If Agbonlahor had another 4 or 5 inches he would be a real handful"
Perhaps even the new Claude Makélelé Graham Taylor?



"Let's put it to bed straightaway. I am not discussing any of my players' personal lives"
You kind of just did Sir Alex…

"Inside the pro – Patrice Evra"
NIKE are maybe getting a little too close in this latest marketing campaign…

"Hodgson would love to take it from all angles"
Dean Saunders talking about the Liverpool boss's trophy priorities this season…possibly.

"Harry happy as Spurs get Young Boys in Champions League"
There's something a little creepy about this headline in the Metro

"I knew a girl who did a three way"
Simon Thomas of Sky Sports News maybe shouldn't be allowed to script his own report on record breaking cross channel swims. Might need a re-word that Si…

"Capello demands 'index' removal"
Anyone who doesn't know what the BBC are talking about here, may think this is some kind of sick torture fetish.



"I like football. It's a good up and coming sport"
Not that we'd ever question Mike Tyson's judgement, but pretty sure football's been around for a while…

"Some people might think I am going to go there for vacation — I do actually go there for vacation — but it won't be for vacation this time"
Wordsmith Thierry Henry clears up his new 'multiyear' vacation with the New York Red Bulls.

"He's called Cristiano Ronaldo. Cristiano chose the name, but we like it."
Ronaldo dispels rumours he's an arrogant p***k by calling his son the first thing that came to mind.

"Argentina are waiting for an explosion of Messi magic"
Is it just us, or does this sound absolutely disgusting?

"This is North Korea's first World Cup since their last one"
Good to see BBC keeping on top of cutting edge reporting.

"He's toke poked it with the outside of his right foot"
Don Goodman grows toes in very strange places

"You can see the Blackpool fans for miles and miles down the Golden Mile"
Or perhaps just a mile Sky Sports news?

"Have we got anything to lose by going for it? Yes, our careers are on the line, and yes our families are on the line, but we're going to gamble"
Grimsby Town admitting there is not much to play for against Burton

"There's never been a star like that here for a long time"
Never is quite a long time Paul Jewell

"Fergie sweats on Rooney"
The best you can say about this headline is 'ew'

"Give a Premier Leauge side 3 or 4 chances and you'll find yourself 4 or 5 goals down"
Um, isn't this guy supposed to be clever?